It's getting easier to pay for just about everything.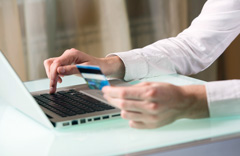 Except maybe for healthcare...
Your patients have gotten used to being able to pay in a variety of ways, and seeing exactly what they've already paid and how much they still owe. They can pay with credit and debit cards, checks, bank transfers - heck, they can even just wave their phones.
Except maybe for healthcare. The issues in dealing with doctor and hospital bills have become almost legendary. Your patients probably expect the same thing when encountering your office's billing procedures.
They could be in for a pleasant surprise!
And in this case, pleasantly surprised patients are patients who pay more promptly, who have fewer questions and disputes, who are more engaged with and loyal to your practice.
Did we mention they pay more promptly?

We've been partnering with ClearGage, Inc. for many years now in bringing state-of-the-art online bill payment to our customers's websites. And they have a lot more to offer than just online bill payment...
Making it Easy to Pay - patients can use:
All Major Credit Cards and ACH Payments
Retail Point of Sale Payments
Online Web Payments
Recurring Payments
Mobile Payments
HSA, FSA and Medical Reimbursement Accounts
No Surprises - ClearCalc™ is a real-time patient responsibility estimator and patient payment processing system. Using the latest information from your patient's carrier, ClearCalc™ checks patient eligibility, analyzes the patient's benefit plan and utilizing your fee schedule accurately calculates the patient's out-of-pocket expense. ClearCalc™ then generates a simple, patient-friendly and easy-to-read patient estimate based on the procedures to be performed to review with the patient.
Check Eligibility Easily - Get access to over 1,000 insurance carriers to get real-time patient insurance information that includes eligibility, deductibles, co-payments, and their annual year-to-date, out-of-pocket expenses.
Flexible Patient Financing - Every patient qualifies without a credit check. With ClearGage's patient financing you have the option to convert your patient payment plans into cash receiving a discounted payment in full in as little as 10 business days. You can finance new patients one at a time as they come into your office or convert your entire portfolio of patient payment plans for cash.
Just think of all the procedures you didn't get to do in the past because your patients thought they couldn't afford them...
Keeping You in the Loop - Whether it's last month's transactions, your current ClearGage Invoice, or next quarter's projected recurring payments - the ClearGage Payment Accelerator™ offers a variety of useful reports that let you review, monitor, and manage the performance of your practice.