As secure as they can possibly be.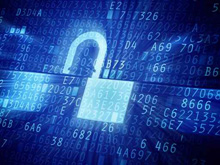 From the moment your patient clicks on a form icon on your practice website to the point your staff processes the submitted form, every possible step to keep your patients' ePHI secure has been taken. Every HIPAA regulation has been followed to the letter when designing the system, and constant review of new regulations is performed to keep that compliance intact.
We create a custom webform that exactly matches your existing practice form and store it on a separate secure server from the one we use for your website.
Your patient clicks on a link on your practice website to open the form in their browser and completes the form.
When they click the Submit button, their entries are cleared from their screen, and the form data is sent via SSL to a different secure server managed by an independent service.
We have no access to any submitted form data, nor do we ever become aware of your passwords.
Upon notification of a form submittal, a designated staff person in your office is sent a link to open and view the form after successful login.
Stored form submissions are kept until a predetermined expiration date and then become inaccessible.