You'll wonder how you ever got along without it
How does your practice make sure everyone is aware of all the important information they need?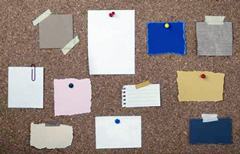 If you're like most practices, you're sending e-mails all the time, distributing handouts to everyone, and the bulletin board in your lunch area is several layers deep.
The Practice Intranet
Incorporating a Practice Intranet section in your Highland Group CMS website allows you to publish a wide variety of information that's available to everyone in your staff, all the time. You can even have separate sections for providers, clinical staff, office staff, etc. that only they can view. And your Practice Intranet is password-protected - no one outside of your practice will ever have access.
There are many typical uses for your Intranet pages (and many more you'll think of as time passes). Some of the more common are:
Internal forms and checklists
Staff rosters and phone lists
Staff meeting minutes
Supplier directories
Office calendars for vacations, holidays, birthdays, events, etc.
News items relevant to the practice and staff
Internet resources - links to useful websites
Your Intranet can be arranged any way you'd like, and you can let select staff members have access to contribute as well. Once your office starts using this feature, you'll wonder how you ever got along without it.
Private Messenging
A great option for your practice intranet is the ability to send messages to any individual or group of staff members (through your website, or via normal e-mail).
Important note: your practice intranet must not be used to store or transmit documents that contain Patient Health Information (as defined by HIPAA).