Put all your eggs into one online basket – where all your people can use them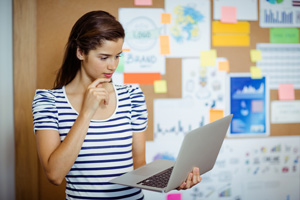 We'll bet you've often thought that there had to be a better way to post information than the good old lunch room bulletin board.
You were right.
You may also have thought that your practice wasn't big enough to benefit from an Intranet.
Can't be right all the time...
Almost every practice is large enough to appreciate having the latest versions of all their documents available to everyone all the time.
---
Maybe you thought that your practice couldn't afford to acquire a real Intranet?
Sorry, wrong again. Wait until you see our pricing...
---
If your practice is like most that we've encountered, the way you communicate with your providers and staff is a less-than-effective mix of sending (and receiving) emails and texts, passing out hard copies, posting notices on bulletin boards, giving verbal instructions, making phone calls, etc.
There's a much better way to make sure everyone in your practice has access to everything they need, all the time. And it's surprisingly affordable! We can build a Practice Intranet that can contain every piece of information you'd like to make available, even restricting access to certain documents to specific groups within the practice. You can even allow authorized people to upload documents to your intranet.
And best of all, you don't need to get a new practice website to get a new intranet if you're happy with your current site (if not, well, we can help with that as well). We'll build a complete practice intranet that will complement the look of your current site and host it on our server – no need to affect anything you have set up right now.