Special pages for special practices
Over the years, we've found there are several types of specialized pages that can make a big difference in the way a healthcare website can work for its viewers.
It's one thing to just present all the information on all the appropriate pages of your site, but consolidating parts of it in order to give the patient a complete picture of what you have to offer can often go a long way.
The pages in this section don't cost any more than any other website page, but they can be invaluable in making sure your viewers see what you'd like them to see.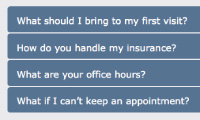 FAQ Pages
A list of all the questions that you hear from your patients in an easily accessible format that can be a real time-saver for you both.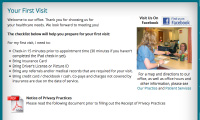 First Visit Pages
Everything a new patient needs to bring to that first appointment all in one easy format.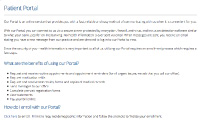 Patient Portal Intro Pages
Tell your patients exactly how to enter your portal, and what they can do when they arrive.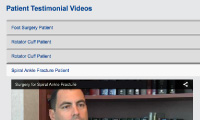 Patient Testimonial Pages
Your website can say whatever you want about your practice, but nothing carries as much weight as what your patients say about you.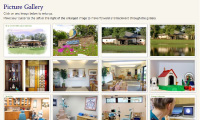 Photo Gallery Pages
Make your practice website much more warm and fuzzy to your viewers with a gallery of photos from an event that you participated in.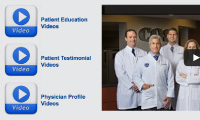 Video Gallery Pages
Videos give much-needed life to the average medical or dental website – copy them into a place where your viewers can see them all.