The picture. And the thousand words.
Nobody wants to read anymore. Give anyone a choice of going through a web page that's all text versus a page of photos and you know which one's going to win. Photos add a large measure of life to an otherwise dry website, as well as some often-lacking human interest.
We're not talking about slipping a photo or two into a page to break up the text – that goes without saying. What can make your practice website much more warm and fuzzy to your viewers is a gallery of photos from an event that you participated in. Things like community service events, patient events, health fairs, Halloween and Christmas office parties, etc. Even a series of photos of the inside and outside of your office can make a big difference.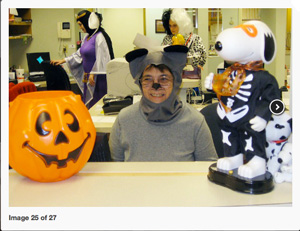 We're also not talking about professional photos – they can often look staged and cold. The ideal candidates are photos taken on someone's smartphone, amateur techniques and all.
The example shown below displays all the photos in a thumbnail grid on the page. A click on any image shows the photo blown up to a much larger size (seen at right) with the option to click on the left or right side to scroll through all the images in order. Images may be captioned, and comments added if desired. The entire gallery may be given an expiration date so as not to appear too much out-of-season for future viewers.