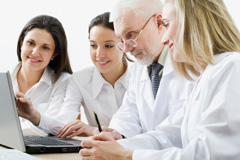 If you elect to have us setup access to your website content, welcome to the world of Content Management!
Our CMS allows you to create changes to the existing content of the site using a very friendly editor. Depending on the level of Front End Access granted, the user can add, delete or edit content on existing pages, and some user levels can create new content and publish it to the website.
We'll explore the features of each level of Front End Access in the sections below. No matter which level you are granted, you can always have us make site updates if you don't have time or just don't feel comfortable with certain areas.