Making it easier for referring physicians to refer to you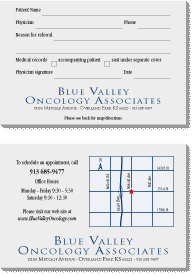 One of the more popular items we offer is the Referral Pad. Distributed to all the primary care physicians you work with (and maybe those you'd like to in the future), they provide an easier way to refer to your practice.
Simple in concept but very useful in practice, the back side features appointment information, office hours and a map to your locations.
We'll design your referral pads using any format or copy you'd like (you can list all the standard services you provide with check boxes for the referring physician to use). You can even have your best referrer's name and logo imprinted on the pads you send to them.
Referral pads are a great way to keep your medical practice name in front of your referring doctors on a daily basis.